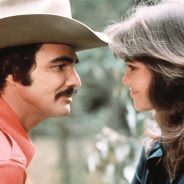 SMOKEY & THE BANDIT 40TH YEAR ANNIVERSARY CELEBRATION TO BE HELD INJONESBORO, GEORGIA JONESBORO, GA – 40 years ago, Smokey and the Bandit was the second largest grossing movie of 1977 – which most movie fans know. What many fans don't know, is that the run that took Jerry Reed as the Snowman and Burt Reynolds as the Bandit from Atlanta to Texarkana, Texas and back again in 28 hours, was largely filmed in and around the city of Jonesboro, Georgia. This June, the Bandit is coming back! To honor and celebrate the movie's big milestone, Jonesboro is hosting the official 40th Year Anniversary Celebration. The City has partnered with the Burt Reynolds Institute, Restore a Muscle Car, The Bandit Run & the Snowman's Run to Benefit Wounded Veterans to deliver THE biggest commemorative Smokey and the Bandit celebration over a two-day event, Friday, June 23rd and Saturday,June 24th. As part of the celebration, the 11th annual Bandit Run, sponsored by Restore a Muscle Car of Lincoln, Nebraska, will be driving in from Texarkana with more than 250 cars– primarily Pontiac Trans Ams. Wednesday June 21st they will meet up in Franklin, Georgia with the Snowman's Run coming in from Tallahassee, Florida. The entire group will then roll into Jonesboro about 3:30pm Wednesday to kick off the 40th anniversary event. The following is a list of other events that will take place in Jonesboro: Friday, June 23, 2017 at 12:00 noon – Reenactment of Coors Scene in Downtown Jonesboro. Those Media personnel wishing to attend, must obtain credentials by contactingCity Hall at 770-478-3800. Those persons without credentials will not be allowed on the street. Friday, June 23, 2017 from 1:00 p.m. – 3:00 p.m. – Street BBQ for Bandit Runners. Meal tickets are $10 and can be obtained by contacting City Hall. Friday, June 23, 2017 at 6:00 p.m. – Question & Answer Session with Burt Reynolds and fellow cast member Susie Ewing who played Hot Pants Hilliard in the movie. The two cast mates have not seen each other since the movie's premiere in 1977. (Lee Street Park) Friday, June 23, 2017 at 9:00 p.m. – Official showing of the Smokey & the Bandit Movie on the lawn of Lee Street Park located at 155 Lee Street. Saturday, June 24, 2017 from 11:00 a.m. – 5:00 p.m. – Smokey & the Bandit festival featuring live sound stage, performances, car show, a Bandit look-alike contest judged byHot Pants Hilliard Susie Ewing and much more. Jonesboro Mayor Joy Day said, "I'm excited about this event! What better way to commemorate such an amazing movie than with the star himself,Burt Reynolds." For this festival, there are sponsorship and vendor opportunities available on a first come first serve basis. Those wishing to participate should contact events@jonesboroga.com . This event is forecasted to be one of the largest Smokey & the Bandit celebrations that Georgia has seen. Additional information can be found on www.jonesboroga.com or ...
read more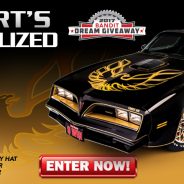 http://thebanditrun.com/wp-content/uploads/2015/08/15842504_226217424489493_596509547972001792_n.mp4 Want a Bandit TRANS AM from #BurtReynolds? Now you can WINaBANDIT.com, use Promo Code: BANDITRUN for DOUBLE tickets with Promo Code: BANDITRUN – Share with your friends! The Bandit Run Restore a Muscle Car ...
read more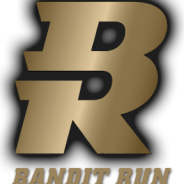 Download the latest version of the BANDIT RUN APP, available in your APP/PLAY Store! Must be a registered runner. If you are a passenger, please send us your name, your drivers name and email you would like to use to info@restoreamusclecar.com! APPLE USERS:  https://itunes.apple.com/us/app/bandit-run/id982961486?ls=1&mt=8 ANDROID USERS: https://play.google.com/store/apps/details?id=com.agilx.banditrun ...
read more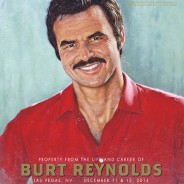 LIVE AND ONLINE AUCTION December 11th & 12th, 2014 The Palms Casino Resort, Las Vegas Dear fans, collectors and friends, My career has enabled me unforgettable memories spanning more than 50 years. I can truly say that I was honored to work beside some of the greatest producers, directors, and actors in the industry. Many became close friends that I shall forever cherish. I've enjoyed collecting many types of artistry and memorabilia during my career. But the fact of the matter is that you run out of space to put things after this many years. Regardless of whether it is a drawing from James Cagney, a painting by Henry Fonda, or just a piece of art that happened to catch my eye, they truly are my personal treasures. My sincerest wish is that you experience the same joy, laughter and love that my collection has given me for so many years. I hope my pieces find new homes where they can be cared for and appreciated. I have been blessed throughout my journey with fans steadfast in their loyalty and support. Thank you. I hold your friendship close to my heart and look forward to sharing my joy of acting for as long as I am allowed. Sincerely, Burt Reynolds Go to the following link to register to view the full catalog of items and for Online bidding! http://www.juliensauctions.com/auctions/2014/burt-reynolds/icatalog-accept.html...
read more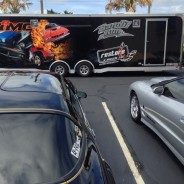 Still on The Run: It's Smokey and the Bandits — a bunch of them By Larry Printz Imagine a day at the beach, followed by a night on the town. You're tired and ready for a peaceful night's sleep. You pull into the parking lot of your hotel only to find that most parking spaces have been taken by black 1977-78 Pontiac Trans Ams. Another handful are consumed by Snowman's tractor-trailer. Have you stepped onto a movie set? Did you imbibe too much? No. You've stumbled onto The Bandit Run. "It's fun because we take over hotels, restaurants, and gas stations," said Dave Hall, creator of the event and owner of Restore A Muscle Car, a car restoration business in Lincoln, Nebraska. Hall and shop customer David Hersey created The Bandit Run in 2006 as a way to commemorate the following year the 30th anniversary of the film "Smokey and the Bandit." Hall had the group traverse the same route as the movie, driving from Texarkana, Texas, to Atlanta. That that initial run attracted more than 100 car owners speaks to the film's enduring appeal. A similar number joined the run this year. And while the film's stars Burt Reynolds, Sally Field, Jackie Gleason and Jerry Reed brought charisma to the big screen, there's no denying that the picture's greatest star didn't receive any billing at all: the black 1977 Pontiac Trans Am accented in gold pinstripes with a screaming chicken decal on its hood and driven by Reynolds. For a generation of adolescent boys with Farah Fawcett posters on their bedroom walls, the Pontiac's brash nature was the height of high school cool. Every boy wanted one. Now, those who have them pay a $90 entry fee to run them in the annual event. For that amount, the drivers get hotel discounts, vehicle decals, a grab bag of goodies and a support truck, not to mention a week of driving through the United States. But you don't have to be a disco-decade aficionado to participate; any make or model of car can partake in the event. "We do not discriminate by any means," said Hall. "Perhaps over 90 percent of the cars are going to be Trans Ams, but we have some Corvettes, some Camaros, we've had GTOS, Chargers, a little bit of everything. We even have a couple pickups." This year's run started at the GM Nationals in Carlisle, Pennsylvania, and finished in Myrtle Beach, South Carolina. We checked in with the group as it arrived in Portsmouth, Virginia. Hall already is working on next year's route. Unlike the film that it commemorates, the Run's speeds are mild not wild; it's a cruise, not a race. Think of it as a vacation built around the love of a car and a film. "I like the people. I like the camaraderie," said Roy Smith of Williamsburg, Virginia. Smith drove his 1996 Pontiac Trans Am Comp T/A in the 2014 run. "We all have this in common and it's really interesting to get to know people from all over the country." No doubt. Let's sample some of them: "When I was younger I had GTOs. But the Trans Am was always that car I always wanted but for some reason or another never bought. It is a car I've...
read more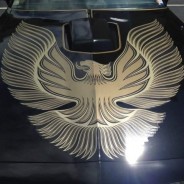 July 3, 2014 at 1:00 am 'Smokey' fans keep Bandit Run alive 1977 Trans Ams make same trek from Texas to Atlanta as in movie by Larry Printz The 'Smokey and the Bandit' film's star was the black 1977 Pontiac Trans Am with gold stripes and a thunder chicken decal on its hood. (MCT) Virginia Beach, Va.— To a generation of adolescent boys with Farrah Fawcett posters on their bedroom walls, the 1977 Pontiac Trans Am nature was every bit as sexy as the iconic blonde, an image burnished by the 1977 film "Smokey and the Bandit." For those of you who haven't seen it — and there may be some — the movie concerns a truck driver named Snowman and his efforts to haul an illegal load of Coors beer from Texarkana, Texas, to Atlanta. At the time, Coors couldn't legally be sold east of the Mississippi River. Snowman's advance man, Bandit, plays the decoy for police to allow Snowman to slip by undetected. And while actors Burt Reynolds, Sally Field, Jackie Gleason and Jerry Reed add much to the proceedings, the picture's greatest star didn't receive any billing: the black 1977 Pontiac Trans Am decorated in gold stripes with a thunder chicken decal on its hood, and driven by Reynolds. "It came out the same week that 'Star Wars' was released," remembers Dave Hall of Lincoln, Neb. "If I wasn't seeing 'Star Wars,' I was seeing 'Smokey and the Bandit.' It is definitely one of my favorite movies for sure." So much so that in 2006, Hall, the owner of Restore A Muscle Car restoration shop hatched a plan over dinner with one of his customers, David Hershey. They would recreate the movie's chase from Texas to Georgia in commemoration of the film's 30th anniversary. And so was launched The Bandit Run in 2007. Now in its eighth year, the event still attracts more than 100 cars and their owners on an annual trek somewhere in the United States. This year, the Run finished Thursday in Myrtle Beach, S.C., having started at the GM Nationals in Carlisle, Pennsylvania, on June 20. The tour stopped in Virginia Beach for two days earlier this week. "You know, it's all about having fun and being on the road," said Hall, standing near a recreation of Snowman's tractor-trailer. "I have people here from Florida and Texas who took several days just to get up to our starting point up in Carlisle. And they drove them the whole way." For some, such passion is hard to imagine for a movie that was unanimously panned by critics upon its release. So it's worth considering that the public embraced the film, so much so that it earned $126 million and went on to spawn two sequels. Even more remarkably, it was nominated for an Academy Award and a Golden Globe. But for participants of The Bandit Run, none of that cultural dross matters; for them, the car is the star. "We have a blast," said Drew Demarco of Baltimore, standing beside his 1981 Pontiac Trans Am SE. "The cars are quite a show, but they almost become a by-product because of the friendships you make. It's a great thing." Other drivers agree. "Car people are good people," said Larry Smith, a farmer from Franklin, Ill.,...
read more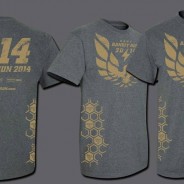 Shop for your Bandit Run 2014 shirts at: http://goo.gl/YT97Nu They may run a little bit on the Smaller side. So if you are in between sizes, go with the larger size. 65% polyester 35% cotton GILDAN SoftStyle Pre-Shrunk
read more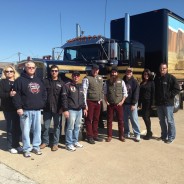 RAMC helped with the filming of the Fast N' Loud, Gas Monkey Garage Bandit Show that aired on Dec. 2nd and Dec. 9th 2013 See photos at: http://www.flickr.com/photos/restoreamusclecar/sets/72157638592278413/#
read more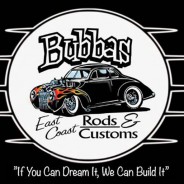 MASTER DESIGNER/BUILDER BUBBA LLOYD BRINGS HIS TV SHOW TO JUPITER On Saturday, March 22, Bubba's East Coast Rods and Customs will host the grand opening of their new facility at the Pennock Industrial Park on Indiantown Road in Jupiter from 10AM to 2PM. One of the main attractions will be the ORIGINAL 1978 Trans Am given to Burt Reynolds after filming the forever popular Smokey and the Bandit movie. The car, which is owned by Rick Schmidt of National Parts Depot (NPD), is normally showcased in the NPD Museum in Ocala. Because of his respect and admiration for Tom and Bubba Lloyd, Schmidt is bringing the Bandit's car south to Jupiter. This is a once in a lifetime chance for Burt Reynolds fans to see the automobile that secured a place in history for the American muscle car. Also on hand will be Supermodel Layla Von Athey, who frequently brings a touch of beauty and elegance to the pages of Hot Rod Deluxe magazine. Compliments of Rick Rodriquez and Dave Hall of the Bandit Run, the Smokey and the Bandit trailer and two police cars from the movie will also be on display. Under the direction of Mark Sharone, members of Southeast Rods and Customs Club, the Corvette Club of the Palm Beaches and the Stingray Corvette Club will show off their beautifully maintained hot rods and muscle cars. Bringing his signature sound to the main stage will be Palm Beach County's busiest singer/guitarist bluesman Joey George. Joey has performed and/or recorded with Nitty Gritty Dirt Band, Blues Traveler, Spin Doctors and John Fogarty, just to name a few. He is a regular at a number of local nightspots including B.B. Kings. Bubba's East Coast Rods and Customs, with a second facility in Fairfax, Virginia, is well known across the country and internationally for its code of honor in dealing with customers. The company is run by the father/son team of Tom and Bubba Lloyd, the hosts of the popular tv show Hot Rod Reality. Bubba, 25, is an exceptionally talented master craftsman and designer, with a reputation for building some of the best cars in the industry. A second tv show, which will be filmed at their Jupiter facility, will soon begin airing on a major national television network. Along with their very dedicated and capable team, Tom and Bubba build dreams for everyone from the average Joe to major celebrities. The welcome mat is always out! For more information, contact Donna Carbone at (561) 385-1584. This event is free to public and, especially, to all Burt Reynolds friends and fans. Bubba's East Coast Rods and Customs is located at: 506 Commerce Way, Jupiter, Florida. You can read more...
read more