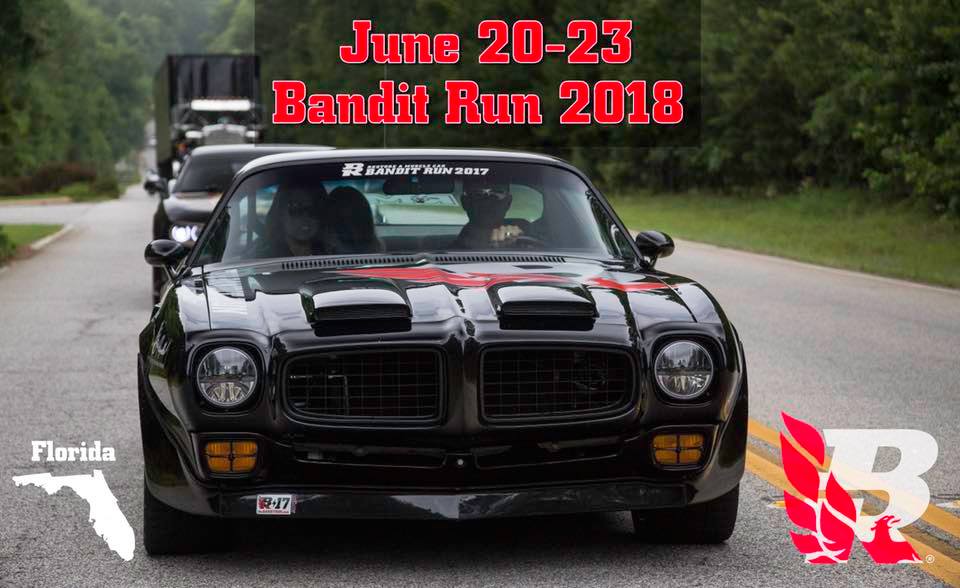 This year's Bandit Run will be in Jupiter, Florida June 20th to the 23rd.
We will be staying in one hotel and traveling out each day to specific locations.
Itinerary
WEDNESDAY, JUNE 20TH 2018
10-2pm            VIP BURT REYNOLDS 'Bandit' Event
This is a once in a lifetime opportunity to personally meet and visit with The Bandit himself, Mr. Burt Reynolds at his private office.  This is the same location where an episode the hit TV show, Fast and Loud was filmed with Richard Rawlings.  Bring your Trans Am and one guest, Wednesday, June 20, 2018 for this rare opportunity that has never happened before.
Open to First 12 People/Couple/Vehicles (Drive your TA into a secure area, one car at a time, so that you, your guest and your car can meet with Mr. Reynolds)
Meet & Greet w Reynolds at his Personal Office
Professional Photo w the Legend himself alongside Your Car (Photo will be given out at BR Awards on Friday)
Autographed Copy of Reynolds newest book, "But Enough About Me, a Memoir"
One additional item of Memorabilia Autographed by Reynolds
8×10 Glossy Photo of You & Your Car w Reynolds
Bandit Run & RAMC Goodie Bag
Available to 2018 Bandit Run Registrants Only
$2500 for this exclusive VIP Tickets
Call 1-844-BANDIT-7 to Book YOUR Personal VIP Event with 'The Bandit'…be sure to hurry, ONLY 12 Spots Available!
*Mr. Reynolds may be announcing another date and time to get a signed poster, car part & photo opp.  To be announced.  Don't miss out on the Opportunity above with your car!
4pm                 1st and ONLY Burt Reynolds Institute Event
BURT REYNOLDS INSTITUTE
Village Shops of North Palm Beach
133 US HWY ONE, STE. #115
NORTH PALM BEACH, FL  33408
BRI performing 3 Improvs – beginning 6pm -7pm-8pm-9pm
45 Runners ea Improv (Seats & Times given at event)
Donations appreciated – $10 suggested
*Registration Trailer Open
DINNER        Restaurant within walking distance or On your Own
THURSDAY, JUNE 21ST 2018
3pm                 Cars get ready to go to car show
4pm                 Cars arrive to set up for car show
6-9pm             Kick Off car show at
HARBOURSIDE PLACE
200 US-1
JUPITER, FL  33477
$10 per car
*Dinner On your Own – Many places to choose from!*
FRIDAY, JUNE 22ND 2018
9:30am             Depart for Seminole Inn – SATB2 movie location
11am               PHOTO OP BEFORE LUNCH UPON ARRIVAL
11am               Car Show & Lunch Buffet
SEMINOLE INN
15885 SW WARFIELD BLVD
INDIANTOWN, FL  34956
Full lunch buffet & parking for Photo Op!
$16 Cash per person includes Drink & Tip
2pm                 Depart back to Hotel
4pm                 Depart for Twisted Tuna Car Show & Dinner
5-??                 Mini Car Show w BR Seafood Dinner
TWISTED TUNA
4290 SE SALERNO ROAD
STUART, FL  34997
$36 per person Fine Seafood Dinner
*Double Level Seafood Restaurant on water w LIVE Music & Gorgeous views!
7pm-ish           BR Awards Celebration!
SATURDAY, JUNE 23RD 2018
9am                 Depart for Museum (1hr 40min)
11am               PHOTO OP BEFORE TOUR
1-3pm              Day Trip to Museum w Lunch
AMERICAN MUSCLE CAR MUSEUM
3500 SARNO ROAD
MELBOURNE, FL  32934
11-1pm            Tour Museum – over 100,000 sqft
1pm                 Box Lunch at Museum ($10.99/person)
*Return on Own – A1A Beautiful Drive – will take about 2 hours or so thru coastal towns
EVENING      Options – Enjoy Bars w Live Music – Casual Beach atmosphere